Below you'll find our list of 10 books every Internet entrepreneur would love to receive as a christmas gift. It's not to late: Order a copy of your book of choice in order to give it as a present to your co-founder, a CEO of one of your portfolio companies, or to yourself.
1.) The Lean Startup: Most new businesses fail. But many of those failures are preventable. The Lean Startup is a new approach to business that's being adopted around the world. It is changing the way companies are built and new products are launched. The Lean Startup is about learning what your customers really want. It's about testing your vision continuously, adapting and adjusting before it's too late.
2.) The Startup Owner's Manual: More than 100,000 entrepreneurs rely on this book for detailed, step-by-step instructions on building successful, scalable, profitable startups. The National Science Foundation pays hundreds of startup teams each year to follow the process outlined in the book, and it's taught at Stanford, Berkeley, Columbia and more than 100 other leading universities worldwide.
3.) The Start-up of You: A book of the LinkedIn co-founder Reid Hoffman on how to apply the strategies of successful entrepreneurship to your career: in other words, how to run the 'start-up of you'. In a world where wages are virtually stagnant, creative disruption is rocking every industry, global competition for jobs is fierce, and job security is a thing of the past, we're all on our own when it comes to our careers. In the face of such uncertainty, the key to success is to think and act like an entrepreneur.
4.) Startup CEO: A book for any CEO of a high-growth company. While big company CEOs are usually groomed for the job for years, startup CEOs aren't – and they're often young and relatively inexperienced in business in general. The book ist based on the author's (Matt Blumberg) experience as a startup CEO and covers the issues he's faced over the dozen years he's been a CEO.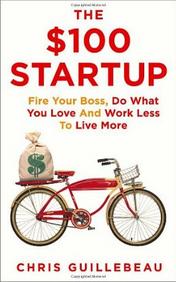 5.) The 100$ Startup: This book is your manual to a new way of living. Learn how to earn as much as you would from a nine-to-five job but on your own terms, when and where you want. Learn how to achieve that perfect blend of passion and income to make work something you love. Take crucial insights from 50 ordinary people who started a business with $100 or less. The author makes it crystal clear: There are no excuses left. START. Start now, not later.
6.) Delivering Happiness: Tony Hsieh (CEO of Zappos.com) explains how he created a corporate culture with a commitment to service that aims to improve the lives of its employees, customers, vendors, and backers. Hsieh provides concrete ways that companies can achieve unprecedented success. He details many of the unique practices at Zappos, such as their philosophy of allocating marketing money into the customer experience, the importance of Zappos's Core Values and the reason why Zappos's number one priority is company culture.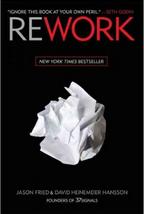 7.) Rework: This book shows you a better, faster, easier way to succeed in business. Read it and you'll know why plans are actually harmful, why you don't need outside investors, and why you're better off ignoring the competition. The truth is, you need less than you think. You don't need to be a workaholic. You don't need to staff up. You don't need to waste time on paperwork or meetings. You don't even need an office. Those are all just excuses. What you really need to do is stop talking and start working.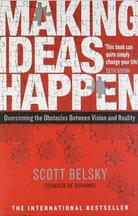 8.) Making Ideas Happen: Every day new solutions, revolutionary cures, and artistic breakthroughs are conceived and squandered by smart people. Along with the gift of creativity come the obstacles to making ideas happen: lack of organisation, lack of accountability and a lack of community support. Scott Belsky has interviewed hundreds of the most productive creative people and teams in the world, revealing one common trait: a carefully trained capacity for executing ideas. Implementing your ideas is a skill that can be taught, and Belshy distills the core principles in this book.
9.) Behind the Cloud: How did salesforce.com grow from a startup in a rented apartment into the world's fastest growing software company in less than a decade? For the first time, Marc Benioff, the founder and CEO of Salesforce tells how he and his team not only survived the dotcom implosion of 2001, but went on to define the company as the leader of the cloud computing revolution and spark a $46-billion dollar industry.
10.) Crush It!: Online marketing trailblazer Gary Vaynerchuk tells business owners what they need to do to boost their sales using the Internet just as he has done to build his family's wine store from a $4 million business to a $60 million one.
- Advertisement -