It's almost Christmas! While the year winds down and festivities commence, it's still not too late to get the perfect Christmas gift for the budding entrepreneur, founder or startup-enthusiast in your life. 
Here, we've hand-picked the top 10 books everyone will enjoy reading this holiday season with a cup of their festive beverage of choice in hand.
From handy guides, philosophical insights, to dramatic tales (both tears and laughter allowed), we think there's something for everyone. So, without further ado, and in no particular order, here's the lineup:
1. Dare to Lead: Brave Work. Tough Conversations. Whole Hearts – Brene Brown, 2018
This book from podcast-favourite and inspirational TedTalk speaker, Brene Brown, invites us to question what it means to be a leader. It comes with the premise that when we 'dare to lead' we don't pretend to have the right answers; we stay curious and ask questions. Brene encourages us to see power as something that becomes more valuable once partnered with vulnerability and shared with our team. This one is a real thought-provoker and questions prevailing leadership patterns in our society.
2. Nevertheless, She Persisted: True Stories of Women Leaders in Tech – Pratima Rao Gluckman, 2018
The tech world is an undeniably male-dominated space and the startup world arguably is all too similar. Despite the challenges that women face to thrive in tech careers, there are plenty of women that persist and succeed. And not enough of them get the credit they deserve. Pratima Rao Gluckman—a female leader in tech herself—embarked on a project to collect stories of the leadership journeys of such women. This book tells the human side behind these stories.
3. The Startup Playbook – Rajat Bhargava and Will Herman, 2021
In the growing startup space, what every entrepreneur needs is a fast track to the wisdom and experience gained from building successful companies. In The Startup Playbook, the authors share their combined knowledge to help new founders know how to make the decision that will get them on the track to success, becoming a viable entity and not one of the 9/10 startups that fail. Perfect if you're in need of some actionable guidance, that's enjoyable to read about.
4. Powerful: Building a Culture of Freedom and Responsibility – Patty McCord, 2018
Chief Talent Officer Patty McCord was one of the minds behind the unique and high-performing culture at Netflix. This book advocates practising radical honesty in the workplace and taking new approaches to staff motivation and retention. McCord's road-tested advice, offered with humour and irreverence, provides readers with a different path for creating a culture of high performance and profitability. In the age of The Great Resignation, the work culture that we curate and promote couldn't be more important.
5. The Cult of We – Eliot Brown and Maureen Farrell, 2021
They say that you need to learn from the past to prepare for the future. Recounting the inside story of WeWork, its founder and its epic unravelling, this book is a real page-turner that questions a financial system "drunk on the elixir of Silicon Valley innovation". The award-winning book is described as "one of the wildest business stories of our time" and is sure to be hard to put down. The story has all the dramatic highs and lows, and after all – only from knowing past mistakes and history, can we learn for the future.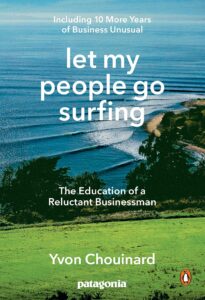 6. Let My People Go Surfing: The Education of a Reluctant Businessman – Yvon Chouinard, 2005
Coming from the founder of one of the most environmentally respected companies on earth, Patagonia, 'Let My People Go Surfing' is a must-read. It shares the persistence and courage that has gone into creating a globally respected brand that has put sustainability to its core. Sustainability is a business buzzword in the startup space right now, this book tells the story of putting sustainability first before it was mainstream through the inspiring words of Yvon.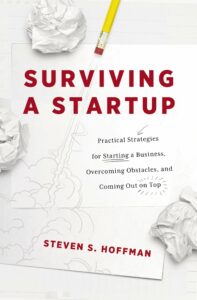 7. Surviving a Startup – Steven Hoffman, 2021
With the reality that over 90% of startups fail, this read, from the CEO of Founders Space, will prepare any budding entrepreneur to avoid disastrous mistakes, surmount sizable obstacles, and master the skills necessary to make the right choices along their path to success. Embarking on the startup journey isn't easy but books like this can shed some light on how to make it more manageable, how to streamline the process, and what pitfalls to avoid.
8. The Minimalist Entrepreneur – Sahil Lavingia, 2021
Described as a roadmap to building successful startups, this book is packed with hard-won battle-tested lessons from Lavignia's own journey. A fancy office and college degree arent the base ingredients for launching successful businesses – this book shows you what is. The European startup space, in particular, is proving itself to be a democratic one, let this book provide some inspiration in what really counts in taking off.
9. The Startup Wife – Tahmina Anam, 2021
This year's novel selection, we have The Startup Wife. This book might be familiar tale to some our readers at EU-Startups as it tells a story about love, creativity, and the limitations of the tech-verse. The book is described as a hilarious take on startup culture, marriage and workaholism, exploring how technology can disrupt love. Take a break from the heavy guidebooks and theoretical textbooks and pick this book up to remember that there's life beyond business too.
10. Start With Why: How Great Leaders Inspire Everyone to Take Action – Simon Sinek, 2011
Over a decade ago, Simon Sinek started a movement that encouraged millions to demand more purpose at work and ask the 'why' of their organizations. Today this philosophy is captivating millions on TikTok. The power and relevancy of Sinek's ideas have truly remained. This book shows that the leaders who have had the greatest influence in the world all think, act and communicate the same way—and it's the opposite of what everyone else does.
Did you find some inspiration? Or do you have any more suggestions?
A favourite quote from this selection is: "I define a leader as anyone who takes responsibility for finding the potential in people and processes, and who has the courage to develop that potential."  Brene Brown
From all the team at EU-Startups, we wish you very happy holidays and happy reading!
- Advertisement -