If you're thinking about what to get the budding entrepreneur or successful founder in your life this Christmas, you can never go wrong with a book. The complicated part is knowing which one!
We're here to give you a hand so that you don't waste time browsing online or at the bookstore. Sit back and grab a pen; here is our list of 10 books to add to your Christmas list. 
1. A CEO Only Does Three Things: Finding Your Focus in the C-Suite – by Trey Taylor (2020) 
If you're often finding yourself distracted or pulled into colleague's tasks, this book will provide insights getting that razor-sharp focus for 2021.
Trey Taylor's expertise is coaching and strategising for executives and C-Suite leaders. With this book, Taylor talks to new and veteran CEOs about the importance of focusing and how this is a CEO's most important asset. One of the most common problems and mistakes of CEOs is to think they have to be involved in every aspect of their company. With this reasoning they spend valuable time with low-priority decisions and end up constantly feeling overwhelmed and tired out. Whether you're a CEO or not, this book will help you focus on what's important to be and perform better.
2. How I Built This: The Unexpected Paths to Success from the World's Most Inspiring Entrepreneurs – by Guy Raz (2020)
Guy Raz is one of the most popular podcasters in history. It's not just us who say this, but also the New York Times, as his shows have a combined audience of nearly 20 million downloads monthly. 
How I built This is a Wall Street Journal #1 Best Selling Business Book based on the highly acclaimed NPR podcast with the same title. The book offers valuable insights and inspiration from more than 200 entrepreneurs on how to start, launch and build a successful venture. This book is a must read for those who dream of starting their own business and wonder how some of the most successful business people did it. 
3. Joy at Work: Organizing Your Professional Life – by Marie Kondo and Scott Sonesshein (2020)
We all brought out our Marie Kondo inner-self at some point during the lockdown, don't deny it. In this book, instead of helping us reorganise our homes, she gives advice on how to arrange our business and keep it clean of clutter and mess. The Netflix star and best selling author, Marie Kondo joins forces with Rice University business professor, Scott Sonesshein, to share studies, strategies and stories to help the reader eliminate chaos from their workplace and make room for work that really matters. 
The main goal of this book is to help you find the rewarding happiness and success that comes out of productivity. 
4. Measure What Matters – by John Doerr (2018)
If you're a VC freak or know quite a bit about startups, John Doerr needs no introduction for you. For those that are not familiar with him, he is a legendary venture capitalist and widely known in Silicon Valley for having helped many companies succeed. He was an original investor at Google and Amazon and is the current chairman at Kleiner Perkin as well as serving on the board of the Obama Foundation.  
In this book, Doerr explores a management system founded on Objectives and Key Results (OKRs). By setting goals this way, it's easy to break them down into smaller, clearer and more achievable aims. This management method gives leaders the chance to focus on what really matters, measure the progress to the goal, create alignment groups and allow teams to grow and achieve things they wouldn't have thought possible. 
5. Zero to One – by Peter Thiel (2015)
Peter Thiel is an entrepreneur, investor and writer of this book, which is already a New York Times Bestseller. Zero to One presents an optimistic look of the future and a new approach to innovation that starts by learning to ask questions that lead you to find valuable answers in places that you didn't think possible. 
Thiel takes the reader though the technological age we live in and explains that progress shouldn't be limited to computers or Silicon Valley; in fact, there is no limit to innovation. Progress and change can be achieved in any sector or area of business and it starts with the must-have skill that every leader should have: learning to think for yourself. This book is for those innovative minds that want to channel their inner Bill Gates and go on to create great and new things. 
6. No Rules Rules: Netflix and the Culture of Reinvention – by Reed Hastings and Erin Meyer (2020)
The world is changing, so should we. No Rules Rules is the captivating untold story behind the winning philosophy of one of the most innovative and successful companies in the world. Shortlisted for the 2020 Financial Times and McKinsey Business Book of the Year, Reed Hastings and Erin Meyer introduce the Netflix management system and how it is the complete opposite to the classic leadership style based on control. 
The streaming giant has had to reinvent itself over the years, but the one thing that stuck from the start is the flexible work style that its co-founder and co-writer of the book, Hastings, established from the very beginning. Together with The Culture Map's writer, Erin Meyer, they dive into the practices that take Netflix to the mountaintop, year after year. Get ready to reframe performance, a work style that is based on valuing people over processes, emphasising innovation over efficiency and giving employees context instead of control.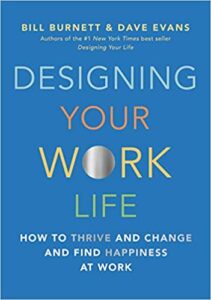 7. Designing Your Work Life: How to Thrive and Change and Find Happiness at Work – by Bull Burnett and Dave Evans (2020)
If you're looking fresh out of university and looking for a job, or you have some experience and you're aiming for promotion, or you're simply looking to change career paths, this book is a must read.
Get ready to read business talk combined with inspiration and innovative self-help, to help you navigate through your professional life. Standfords' Burnett and Evans partner up in this New York Times Best Seller to teach the readers how to apply design thinking to our work-life to change, thrive and find happiness at work. 
8. Bring Yourself: How to Harness the Power of Connection to Negotiate Fearlessly by Mari Taheripour (2020) 
Mari Taheripour has been teaching negotiation for fifteen years as an award winning professor at Wharton School of Business and an instructor at Goldman and Sachs' 10.000 Small Businesses Program.
Contrary to what are known to be the strengths of a good negotiator – aggressive and intimidating – Taheripour has actually come to realise that the best negotiators are being empathic and curious, and open to create a human connection based on communication. Bring Yourself aims to help the reader gain the confidence they need to accomplish their goals in work and life.
9. Lost and Founder: a Painfully Honest Field Guide to the Startup World – by Rand Fishkin (2018)
Rand Fishing is one of the world's leading experts on SEO and the founder and former CEO of Moz, a $45 million a year business. The startup world is not all rainbows and success stories, though, as it took 15 years for Fishkin's business and professional reputation to grow to its current state.
In this book, Fishkin bursts the happy bubble to tell the story of the up and downs of the startup life that a lot of CEOs would rather keep to themselves. It tackles hard truths with humour and transparency just like he has been doing on his blog ever since the beginning. His lessons are applicable to any business, being a startup or not, to help solve problems and make readers feel less of a failure for having them.
10. Move Fast. Break Shit. Burn Out: The Catalyst's Guide to Working Well (2020) – by Tracey Lovejoy and Shannon Lucas
The last entry on our list is for those who can't stand still. If you're an innovator that is always on the move, this book is for you. For the writers, Tracey Lovejoy and Shannon Lucas, the innovator that can't stand still is not a workaholic, in fact, they're a catalyst and a rockstar. 
The writers work to make their fellow catalysts better understood, connected and supported in their processes. Instead of taking the reader through a how-to, they created a manual that will help them operate without losing people, breaking stuff unintentionally and reducing the intensity of the burnout cycle. It will not tell you to stop working, it will just help you work more sustainably. 
Did you find what you were looking for? We hope we have helped you narrow down your Christmas book list. As for now, all we can say is happy holidays and happy reading!