It's the most wonderful time of the year – and a great time to tuck into a new series!
There's an abundance of streaming services available and a bunch of great series out there – especially if you're a startup enthusiast or budding entrepreneur. The only problem is finding the show you want to watch.
So, here's a list of ten great series to watch during the festive period – some will make you laugh, some will give you some inspiration, and some might be a bit of an eye-opener to the world's realities – something for everyone!
1. Girlboss
Netflix comedy Girlboss follows misfit Sophia discover a passion for fashion and become an unlikely businesswoman. Loosely based on Nasty Gal Founder, the show follows Sophia trying to balance her new life of success. 
Why it's worth watching: Based on a true story, it gives comic relief and it'll keep you solidly entertained while you muse on the realities of running a new business. It shows passion, grittiness and determination.
2. Better Call Saul
Available on Netflix, Better Call Saul is a spin-off, prequel and sequel of Breaking bad. The series follows ex-con artist Jimmy McGill as he turns into a small-time attorney and transforms into alter ego Saul Goodman. The series is a show that you can feel familiar with in the intense beginnings of running and maintaining a business, and developing a  'fake it until you make it' attitude. 
Why it's worth watching: This series gets rave reviews for its storytelling, twisting plot and character development.
3. The StartUp
Available to watch on Netflix, StartUp is an American drama series starring Martin Freeman and Adam Brody. The show follows the emergence of GenCoin, a tech idea centred on digital currency (that sounds familiar…) developed by three strangers to conceal their illegal money. Crooked FI agent Phil Rask is on the task to expose the trio and bring them to justice. 
Why it's worth watching: The show will certainly capture your attention with its tale of three entrepreneurs who are brought together by personal ambition to make a tech success story.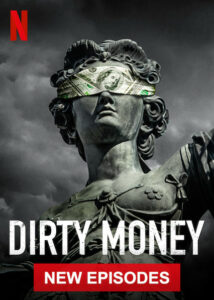 4. Dirty Money
Netflix original documentary that takes a dive into the world of corruption, fraud and crime revolving around the world's economy. This docuseries explores stories of scandal and corruption in business, exposing acts of corporate greed and corruption. Some of the tales that are told include a car company that cheats emissions tests to save money and the drama and shady deals that surround Donald Trump's business empire.
Why it's worth watching: The riveting exposé is essential viewing for anyone wanting to get involved in business. It confronts us all to think about the human cost of corporate greed.
5. The Mind, Explained
This Netflix series explores the inner workings of the human brain, looking at topics of dreaming to anxiety disorders. It's a must-watch for any budding entrepreneur to better understand how the mind works and what makes people tick. 
Why it's worth watching: Any entrepreneur needs to understand how people work in order to lead a great team and market their products/solutions successfully, this documentary provides the insights you need.
6. Workin' Moms
A comedy series that offers a look into the other side of running successful businesses – upholding your personal life. Set in Canada, and streamable on Netflix, the sitcom is incredibly popular. It tells the tale of a friendship group sharing the struggle of urban motherhood, achieving a sense of self, and keeping it professional.
Why it's worth watching: Running a business is never easy. This series is a bit of comedic relief, and reminds us that there's more to life – we all have a lot on our plate, and sometimes, constant professionalism is hard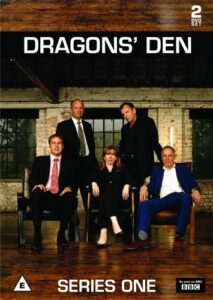 7. Dragon's Den
UK series Dragons Den sees budding entrepreneurs get three minutes to pitch their business ideas to five multimillionaires who are willing to invest their cash. It's a must-see for anyone interested in business for inspiration and as a lesson on how (or how not) to make a winning business pitch.
Why it's worth watching: If you want to launch a company, you need to know how to pitch it. Watching this series will be a real eye-opener on the do's and don'ts.
8. Ballers
Available on HBO, Ballers is an American comedy-drama starring Dwayne Johnson as a retired NFL player navigating a new career as a financial manager. It's a good watch that tells what may be a familiar tale of how to make a career change, and manage new relationships 
Why it's worth watching: This series weaves together entertainment with societal critique and really emphasises the emotion that goes into making a big career change
9. Generation Wealth
This documentary takes an extraordinary look into our growing obsession with wealth and the race to get rich. Exploring a growing culture of materialism, the cult of celebrity and obsessions with social status, the documentary bears witness to the global boom-and-bust economy and exposes the complicated consequences. Generation Wealth takes a critical look at the desire to be wealthy – regardless of the cost. 
Why it's worth watching: This documentary is a stark reminder of the dark side of consumerism. It'll make sure you keep sustainability and people-centric values when setting up your business.
10. Inside Bill's Brain, Decoding Bill Gates
Oscar-winning director, David Guggenheim, aims to find out what goes on inside the mind of the founder of Microsoft. Over the course of three hour-long episodes, we get a small glimpse into Gate's childhood, education, growing Microsoft, and his family life, as he pursues unique solutions to some of the world's most complex problems. From clean drinking water to nuclear energy plants, Bill Gates is definitely changing the world. 
Why it's worth watching: It's always helpful to step inside the mind of a genius. Plus, Bill's reading list is on full display.
We hope you enjoy this selection! Let us know your thoughts – any others we should add to the list?
- Advertisement -