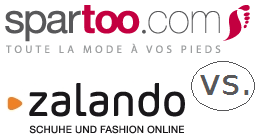 According to the Federal Cartel Office the German Zappos clone Zalando recently was about to receive some fresh capital from Emesco AB, which is a subsidiary of Kinnevik AB. An update of the Federal Cartel Office has now revealed that this new capital injection has not taken place. Why? We don't know the reasons yet. But anyway, Zalando seems to be in good shape. Holtzbrinck Ventures, a German venture capital firm that owns about 16 % of Zalando, has recently stated (within an arctile of the Manager Magazin), that it values its shares three times as high as the price which the social network StudiVZ was sold for (85 million Euro). Let's calculate: 3 x 85 = 255 million Euro. If Holzbrinck Ventures values its 16 % of Zalando at 255 million this means that they value the whole company at about 1,6 billion. Wow!
But the competition never sleeps: According to the news agency Reuters, Zalando's French competitor Spartoo has just hired the investment bank Jefferies to help it raise
100 million Euro from a new investor as it seeks to expand. The Echirolles based company, which calls itself Europe's No. 1 online shoe retailer, has said it is aiming to boost sales to 100 million Euro this year from 60 million Euro last year. One of the unnamed sources of Reuters stated that Spartoo was now worth between 200 million and 250 million Euro.
If you compare the search volume and news reference volume of the two brands (Zalando and Spartoo) at Google Trends, it seems that Zalando is leading the race. One reason for this development might be the fact that Zalando has invested heavily into "funny" TV commercials.