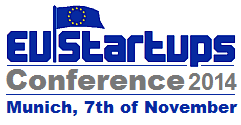 On the 7th of November 2014, we're going to host our first event called the EU-Startups Conference!
The event will take place between 2pm and 8pm in the event space of the WERK1 in Munich. Around 120 attendees are expected.
The EU-Startups Conference, which will be held in English, will be the perfect event for startups that are aiming to enter international markets. We will have fireside chats with 2-3 internationally successful founders out of the Internet space and a pitch competition of about 10 startup teams.
Our speakers/guests
One of our "star guests" will be Bernhard Niesner, the Founder and CEO of the world's largest language learning community busuu.com! Headquartered in London, busuu aims to change the world by providing language learning around the globe for 40 million users with 40k+ new users joining every day. Bernhard is a perfect example for the fact, that globally successful Internet companies can also be build out of Europe.
Another great speaker at our event will be Markus Barnikel, the CEO of world's leading ridesharing marketplace carpooling.com. We're going to talk with him about the sharing economy, the challenges and opportunities of beeing a European startup and many more topics.
More speakers and details regarding the event will be announced on the 1st of July. If we already got your attention and you're able to be in Munich at that time, we highly recommend you purchase your ticket now!
Pitch competition
If you're interested in pitching your startup idea during a 5-minute-presentation in front of a group of investors, startup interested people and an expert jury, please don't hesitate to send me an email (Thomas@EU-Startups.com).
Tickets
We kept it affordable: The two ticket categories we're offering (€25/€49) already include food and drinks during our networking break. Tickets can be purchased here!