As food scarcity and climate change continue to be an alarming concern for consumers, people are looking into alternative sources to get their food and nutrition. More consumers are reducing their meat consumption and adopting vegetarian, vegan, or flexitarian diets. This has led to the rise of new plant based products. The global plant-based meat market is projected to be growing at a rate of 19.4% annually. There is also a growing interest for insects to be a part of mainstream consumption.
Another promising food innovation that can help solve the food chain crisis is 3D food printing. Anything that is or can be in a liquid or paste state can be used for 3D printing. 3D printing food can enable food personalisation (for example, personalising nutritional value or texture), presenting less desirable food in a more delicious form, and creating plant-based foods.
In the future, 3D food printers will be a mass adopted consumer product that will become a common household product. For now, 3D food printer technology remains primarily for commercial use. The technology behind 3D food printing is nascent and currently not scalable. The current challenges with scalability and the time to produce each unit is still relatively long, and also the cost of purchasing and maintenance is high.
Within Europe, there a few 3D food printing startups that are either building the technology behind 3D food printers or are producing 3D printed food such as plant-based 'meats'. You should watch these startups as they are set to transform how food is produced and are helping to create more sustainable food chains. We are looking forward to trying all these new 3D food products when they launch!
Natural Machines – Natural Machines is a Barcelona-based startup that produces innovative consumer kitchen appliances. Their first product is Foodini, which is a 3D food printing machine. They want consumers to create food and personalise it using fresh ingredients at home. Their machine enables consumers to eat healthier, improve kitchen efficiency, and reduce food waste. They were founded in 2012 and have around 20 employees across their offices in Barcelona, New York, and Beijing. So far, the team has raised a total of €4.5 million across multiple rounds, including a combination of grants from the EASME (EU Executive Agency for SMEs) and venture capital from Closed Loop Ventures.
byFlow– The Eindhoven-based company, byFlow, is aiming to be one of the global leaders in food printing to help upscale food production methods. Their product is a food printer called the 'Focus 3D food printer', which is portable and also easy to use and maintain. People can create customised shapes and textures with their printer. It is used by food industry professionals. Chef Jan Smink is serving 3D printed food created using a byFlow printer at his restaurant in the Netherlands. byFlow is a family business founded in 2015 and they currently have a team of around 15 people.
Nova Meat – Nova Meat is another Barcelona-based startup that is printing plant-based meat to combat the unsustainable and insufficient agriculture system, and help solve the world's food supply problem. They print plant-based steaks and pork, and the UK newspaper the Guardian has already claimed that their steak is the "most realistic plant-based steak." The steak itself is made from extruded pea protein, seaweed, and beetroot juice, and is formed into fine fibres to resemble the muscle tissue. Nova Meat is planning to start selling their steaks in 2021, being founded in 2018. They are backed by New Crop Capital, a fund that invests in companies producing alternative, meat-free protein products.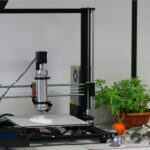 La Patisserie Numerique (Digital Patisserie) – La Patisserie Numerique was founded in 2019 by Marine Coré-Baillais, formerly CEO of Sculpteo (3D printing company), who also holds a Pastry Chef diploma. In a bid to make 3D food printing more accessible, Cakewalk3D wants to allow consumers to print their food at home through an attachment added onto existing 3D printers. They recently launched a Kickstarter campaign for their new product, Cakewalk3D, landing just under 30K, and the CakeWalk3D will start shipping in December 2020. La Patisserie Numerique was also a part of the Smart Food Paris incubator, and is additionally supported by the BPI through the PIA Fab scheme and by INPI in France.
Redefine Meat – Redefine Meat is an Israeli startup printing meat-free steaks. Using their proprietary technology and printing method, they produce 'steaks' that closely mimics meat steaks with similar textures of the fat, blood, and muscle found on animal meat steaks. Founder Adam Lahav claims that they will be able to move faster than other startups in the space and hope to move onto mimicking other meat types in the future, such as lamb and pork. They are planning to start selling their steaks and distribute their machines commercially next year. Redefine Meat was founded in 2018, and they recently raised a €5 million seed round led by CPT Capital with Hanaco.ç
- Advertisement -