Smove.City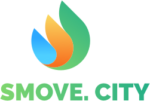 Long Business Description
Smove.City provides cities, communities and companies an all in smart mobility solution.
We provide a fleet of electric kick scooters and electric bikes, a dedicated mobile application, fleet management dashboard, insurance and maintenance. Useful data can be accessed through our fleet management dashboard, cities can use this for their urban planning and to understand the mobility in their city/community/company. Charging stations/docking stations are optional.
Everything is included in the fixed monthly subscription fee with a minimum contract of 12 months.
Our solution can easily be integrated to the public transportation infrastructure of cities.
Through our partners we provide financing for the fleet, that way our clients can finance their fleet over a period of time.
💡
You're a corporate or investor and looking for startups that are innovating in the same market as
Smove.City
? We're happy to assist you with our
Startup Sourcing
service.