Offsetter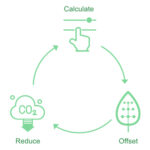 Long Business Description
Offsetter provides a simple and intuitive way for individuals and businesses to calculate, offset and reduce their carbon footprint.
"Carbon footprint" is the term for the greenhouse gases generated by the day to day activities of a person or business.
Each individual or business on the platform can keep track of their monthly carbon footprint. They can quickly see if and how their actions are helping to reduce their carbon footprint and offset it accordingly. The lower the carbon footprint, the lower the contribution to climate change.
Even though they may have signed up as an individual or a small company, they will see that they are part of a greater community of Offsetters' making a real impactful difference.
Offsetter invests in projects that are Gold Standard® certified, considered the most rigorous climate standard by many NGOs, including WWF.
💡
You're a corporate or investor and looking for startups that are innovating in the same market as
Offsetter
? We're happy to assist you with our
Startup Sourcing
service.