FormalDocs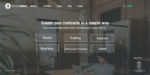 Long Business Description
It is Legaltech solution, a software that allows users to customize legal contracts easily. The platform offers rental agreements, service, partnership, employment and other types of contracts for companies. Users choose the type of contract they need, the answer a very intuitive form and instantly they can download a perfectly written and legal contract and send it to the other party.
We got several recognitions for our innovative solution press coverage and prize as a young technological company such as:
- Yuzz Banesto Foundation with a stage in Silicon Valley (california)
- ESADE business school
- EOI by European Social Fund
- "Vienna startup package" by Vienna Business Agency.
- selected as one of the top startups at Pioneers 2017
The next step in our company It is a platform that allows anyone to create a smart contract using Blockchain technology. This system allows immediate transactions and formalizes the relationship in code.
💡
You're a corporate or investor and looking for startups that are innovating in the same market as
FormalDocs
? We're happy to assist you with our
Startup Sourcing
service.