Tinggly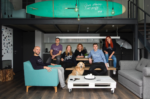 Long Business Description
Experiences give us more happiness than things. We also take more pleasure in giving to others
rather than ourselves. And the prospect of an upcoming exciting experience is a strong motivating
force. These are scientifically proven facts that suggest buying an experience for others is one of
the best investments we can make. But it has always been rather complicated to gift experiences.
It is hard enough to choose the right experience for someone else, let alone know the best time and
place for it to take place.
Tinggly simplifies experience gifting by narrowing down the world's best experiences and making
them easy to gift to anyone around the world. The Tinggly team selected over 2,000 experiences in
over 100 countries and packaged them into 26 gift boxes with different themes and price points.
Each of the gift boxes contains a range of handpicked options, giving the gift recipients the
freedom to decide the what, when and where. Experiences include cultural tours, skydiving, bungee
jumping, gourmet experiences, fastcar and adventure driving, spa and beauty, landmark visits,
extreme sports and many more.
Gift receivers have 5 years to choose an experience from their gift box, giving them plenty of time
to plan ahead. Tinggly is ideal for travel enthusiasts and digital nomads looking to try new things in
different places, but experiences can also be redeemed close to home.
Tinggly was founded in 2014 by Linas Ceikus and Alex Gibb, and is headquartered in Vilnius,
Lithuania. Prior to Tinggly, Linas and Alex have both run successful ventures and have collaborated
together in the experiences industry with other companies that make up the Tinggly Group.
Tinggly is the global brand and the latest company to form part of the Tinggly Group, a group of six
European experience gift companies with over 300 employees and a turnover totalling €18 million.
In 2018 Tinggly achieved a turnover of €500k, doubling its figure from 2017. Tinggly is fully self-
funded.
In early 2019, Tinggly launched Blogger House, a loft in central Vilnius fully equipped to cater for the
needs of bloggers, vloggers and journalists, who can stay at the accommodation free of charge.
True to Tinggly's values, guests will be shown around the city by a dedicated team member, who
will also plan special experiences outside Tinggly's usual repertoire to provide the ultimate Vilnius
experience.
💡
You're a corporate or investor and looking for startups that are innovating in the same market as
Tinggly
? We're happy to assist you with our
Startup Sourcing
service.