StethoMe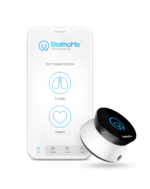 Long Business Description
StethoMe reduces diagnostic errors and provides patients with a sense of security. It also gives a possibility of full remote consultation for adults and children - anytime, anywhere. You can use telemedicine service for diagnosing respiratory problems and for consultations - the most common reasons for Primary Care visits.
The StethoMe stethoscope enables making high quality recordings of auscultation sounds in a dedicated application. After the examination is finished, the sounds recorded are sent to the physician's audiovisual panel where a unique sound StethoMe AI analysis preview is provided. StethoMe AI informs about any potential abnormal sounds in the respiratory system.
Articles about StethoMe:
💡
You're a corporate or investor and looking for startups that are innovating in the same market as
StethoMe
? We're happy to assist you with our
Startup Sourcing
service.