Pricing Pact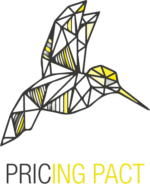 Long Business Description
Even though price is known as the most impactful profit driver, it is usually the one that companies neglect most.
At Pricing Pact, we help companies to have a pricing strategy in line with their objectives.
We've aquired an expertise in value-based pricing approach: we measure the perceived value, the price sensitivity and willingness-to-pay of your customers or potential customers. We strongly believe that value-based pricing approach is the way to go rather than having a cost+ and competitive-based approach.
We collaborate with leading incubators, accelerators and universities to help start-ups and scale-ups to avoid fatal pricing mistakes.
With our pricing projects, workshops and follow-up programs, we have helped dozens of companies, from start-ups to large global leaders.
WHAT WE DO
- Consulting: we help you define or improve your pricing through lean or advanced value-based pricing missions. Besides that, the missions will enable us to collect and give you marketing and R&D.
- Training & workshops: we train you and your team on pricing concepts and pragmatic pricing techniques to help you master your prices
- Follow-up: we help you to improve your pricing and revenue model by answering to all your questions and giving you the next steps. In order words, we become your coach for all pricing matters.
- Pricing Pages checkups: we help you improve or define your pricing pages.
- Price-It, our value-based pricing web application: PriceIt helps you define the optimal price for your product/service based on your company's strategy (i.e : volume, revenue, profit). Here are some features we can provide you with:
* Price Sensitivity Meter
* Willingness-to-pay Meter
* Discount Gauger
* Features relative importance
Do you wonder why pricing is so important? Have a look at this interview from our CEO: https://www.youtube.com/watch?v=OVrTI2fJj-g&t=1160s
Should you have a doubt about your pricing, don't hesitate to contact us!
Articles about Pricing Pact:
💡
You're a corporate or investor and looking for startups that are innovating in the same market as
Pricing Pact
? We're happy to assist you with our
Startup Sourcing
service.