nostrum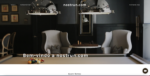 Long Business Description
Who of us hasn't had that piece of furniture that we simple just don't know where to put it or what to make of it?
With NOSTRUM people can rent their appliances, furniture etc in a simple and fast way, giving a second life to the products, recycling them and receiving an agreed payment in return.
First time home owners, college students, recently moved-in-togheter couples, new-to-the-city travelers; or just nomades, can easily furnish their houses, not spending much money and gaining time and experience to understand and decide on how they want to set the house of their dreams!
All with a bonus: circular economy! Less buying, less dumping & helping families create a small second income with their lifelong furnitures.
Articles about nostrum:
💡
You're a corporate or investor and looking for startups that are innovating in the same market as
nostrum
? We're happy to assist you with our
Startup Sourcing
service.