Kind Socks AB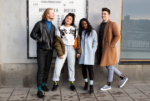 Long Business Description
The Kind Socks is the global fashion brand dedicated to conscious and colorful socks. A conscious brand with a digital approach, we have reimagined a classic sock in a fun conscious way - giving this everyday essential sock the love it deserves.
Our founder, Stephen Steele, after launch a successful Kickstarter campaign to raise the capital for production has now launched the Kind Socks ecommerce platform.
OUR SOCKS
1. FASHIONABLE FOREVER
We feel that sustainability starts off with the design philosophy. We strive to
make beautiful socks, designed and inspired by fashion and the seasons. Our
designs are fashionable and timeless at the same time. Since our socks last very
long, creating designs that are fashionable forever is key.
2. FINEST ORGANIC COMBED COTTON
Climate change is one of the biggest themes of our era. Therefore, sustainability is
at the core of our brand. We are not perfect, but trying every day to be as
sustainable as we can be. That's why we use organic combed cotton, which is
certified by GOTS, the Global organic textile standard (GOTS).
3. DURABLE
Because they are made from quality and as-natural-as-possible materials, our
socks will last you a long time and will not rip after just a few wears.
4. STYLE WITH KINDNESS
Style with Kindness means to be careful with our environment, and trying to
keep our footprint as small as possible. To us this also means innovation and
teaming up with like-minded businesses and organization to achieve this. Impact
is something we make together. Good thing there are many companies working
towards the same goal.
Articles about Kind Socks AB:
💡
You're a corporate or investor and looking for startups that are innovating in the same market as
Kind Socks AB
? We're happy to assist you with our
Startup Sourcing
service.