FREL Solution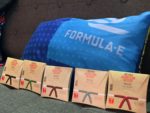 Long Business Description
Product features:
A small, simple and easy to use product that makes the user's life easier.
Key issues:
- The product can be easily put onto almost any pair of eyewear legs and it allows keeping the
eyewear around the neck preventing them from falling or slipping - Eyewear always at hand
- User-friendly
- Lightweight
- Non-irritating
- Long lasting
- Swiss Label certified
Product design:
Product design, engineering and prototyping developed by Alskar Design BV (formerly known as
Bluelarix Designworks Ltd) – www.alskar.com Intellectual Property (IP portfolio):
FRELS Trade Mark registered in CH, EU, US, CA, SK, CN, JP, AU, Norway and Russia
Design registered in CH, EU, US, CA, SK, CN, JP, AU, Norway and Russia
Invention patent granted in IT (published in CH, pending in EU, US, CA, SK, CN, JP and Russia) Utility model protection granted in CH, DE, CN, ES, FR, IT, JP (pending AT, RU, SK)
Product graphics:
Product visual identity, packaging, information and communication developed by Chialab Srl –
www.chialab.it
Product manufacturing:
Product manufacturing and packing by Biwi SA in the Canton of Jura – www.biwi.ch
STRICTLY CONFIDENTIAL | FREL SOLUTIONS SAGL | SWITZERLAND | FSPCI0919
Prizes and Awards:
• Gold Medal for invention
from the International Jury of the 46th International Exhibition of Inventions Geneva (2018).
• Swiss Young Business Managers' Association (GJD Suisse) Award for project management (2018).
• Gold medal for the invention
• Special prize as a sign of honor, recognition and appreciation of scientific creativity and originality
• Certificate of excellence in exceptional recognition of outstanding creativity and idea
from the iCAN 2019 Committee of the Toronto International Society of Innovation & Advanced Skills.
Company values:
At Frel Solutions the heart of everything we do are our company values which drive our choices, our business decisions, our attitudes and our work relationships:
make peoples' lives easier
be honest and accountable communicate openly and honestly work and live in a sustainable manner be passionate
... and giving back
Creating high-quality, useful, unique and innovative product ideas is the core of our company business, and giving back a percentage of profits to charities is one of our economic goals, as well as creating limited run charitable items that individually give back through each sale.
💡
You're a corporate or investor and looking for startups that are innovating in the same market as
FREL Solution
? We're happy to assist you with our
Startup Sourcing
service.