EHT Global Commodities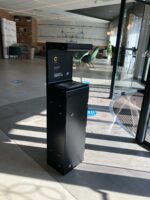 Long Business Description
EHT global specializes in design, prototyping and manufacturing of a wide variety of daily used products.
We own the "intellectual property", which comes in forms of 3D designs, patents and commercial documentation.
One of our latest product lines are the "automatic hand sanitizer dispensers" - designed to face the ever growing demand of health and safety apparel which escalated after the COVID19 pandemics.
Our dispensers, come in 3 models: R11, R12 and R15 and have a wide range of significant benefits over our competitors:
All – round shock resistant metal casing
For indoors and outdoors
220V/110V or high-capacity rechargeable battery power supply (for places with no grid connection available)
Dosage regulation
Unprecedented hand sanitizer capacity (10 or 20L capacity)
Anti-theft and anti-abusive sanitizer protection
High precision sensor (excludes unintentional triggers)
Quality materials (Protection against UV rays, snow, ice, rain)
Optional:
Android or iOS application for reports and management
4G all time connectivity
GPS localization
Solar batteries
💡
You're a corporate or investor and looking for startups that are innovating in the same market as
EHT Global Commodities
? We're happy to assist you with our
Startup Sourcing
service.