DOCIDENT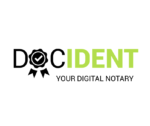 Long Business Description
DOCIDENT is an online certification and verification service. By making all types of documents digitally verifiable, we enable easy sharing of copies and prevent fraud.
With DOCIDENT any digital file can be secured against fraud and manipulation, this protects your business.
DOCIDENT add's value to any of your documents and protects your: legal documents, employment contracts, training certificates, insurance contracts and many more….
We generate a unique hash of your document´s content and your identity and store them securely in the blockchain. A QR-Code can be added to all documents for additional protection.
After certification, copies of your documents can be shared easily and securely.
And all recipients can validate the authenticity of the content with just a few clicks.
Our Service is available on all plattforms: Smartphone, Tablet and Desktop.
💡
You're a corporate or investor and looking for startups that are innovating in the same market as
DOCIDENT
? We're happy to assist you with our
Startup Sourcing
service.