Brick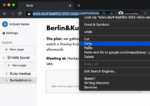 Long Business Description
Brick is a super lightweight platform for public notes and small websites. It features a powerful editor (no bothering with Markdown!), instant publishing, advanced customizability (down to the HTML/CSS level), full anonymity if you need it, and a generous free plan.
Articles about Brick:
💡
You're a corporate or investor and looking for startups that are innovating in the same market as
Brick
? We're happy to assist you with our
Startup Sourcing
service.