With today being International Women's Day, we thought it was perfect timing to bring out the 2021 edition of this article, highlighting the people we see shaking things up in the startup sphere in Europe.
We took all of your nominations into consideraton when curating list below, which includes a whole host of electric female founders, venture capitalists, and startup community mobilisers. We also kept in mind aspects of diversity, including age, background, ethnicity and location across Europe.
We all understand that women are severely under-represented in the tech industry as a whole, in leadership positions, and when it comes to winning funding. Despite a relatively slow rate of change (it'll take on average 54 years to achieve economic parity in Western Europe), there are a lot of people out there kicking ass everyday.
So without further ado, here are the players we see making waves in 2021. And please keep in mind, it was tough to pick just 50. There are many people out there doing great things who deserve recognition – this is just the beginning.
Alice Bentinck is a London-based entrepreneur who co-founded Entrepreneur First, one of the world's leading company builders, helping 2000 individuals build 300+ companies. She also founded Code First:Girls, a free part-time course for female students, and was awarded an MBE, a British Empire award awarded by the Queen. 
Alice Zagury is the co-founder and CEO of The Family, a Paris-based startup accelerator with the mission to empower entrepreneurs in their quest for a repeatable, scalable and profitable business model. She is a champion of equal opportunity, and supporting local talent no matter where it comes from.
Alisée de Tonnac is a Swiss entrepreneur who co-founded Seedstars World, a global startup competition covering 85+ emerging and developing markets. Alisée now serves as Seedstar World's CEO, having been featured in Forbes, Le Monde and Wired.
Anne Ravanona is founder and CEO of Global Invest Her, focused on demystifying the funding process to get more female entrepreneurs funded faster. She is also a regular speaker, including being a TEDx Speaker, and has been recognised for her efforts in publications like Innovate Finance, Elle magazine, SiliconRepublic and more.
Dr Anne-Marie Imafidon (MBE, a British award from the Queen) has gone from child prodigy to co-founder of award-winning social enterprise, Stemettes, inspiring +50,000 young women into Science, Technology, Engineering and Maths (STEM) fields. She was voted most influential woman in tech in the UK in 2020, and hosts the popular Women Tech Charge podcast.
Anne Boden
is a Welsh banking veteran who, after 30 years as a banker watching customers struggle with complex processes, founded challenger bank Starling. As the first woman in the UK to found a bank, she's become a spokeswoman for female fintech entrepreneurs.
Anya Navidski is the Founding Partner at Voulez Capital, one Europe's first VCs for female founders, providing Seed and Series A capital for high growth businesses, especially within the femtech field. She has also assisted a European government on the structuring and execution of an investment fund to facilitate the growth of tech SME champions.
Carlota Pi
 is co-founder and Executive President of cleantech Holaluz, voted the most valued energy company in Spain. Carlota has grown a diverse team of 117+ people over the last 10 years, with a 50/50 gender divide, and is driving Holaluz on track for 1 million clients by 2023.
Clare Jones
 is CCO of what3words, London-based startup that is the world's first addressing system designed for voice (every 3mx3m square in the world has been assigned an address of just three words). With her on board, what3words has zoomed ahead, gaining €20 million of investment.
Conny Vandendriessche – is founder and Managing Partner of We Are Jane, alongside partners Muriel Uytterhaegen and Eline Talboom. As an European investment fund, they support companies where female leadership is prominent, offering financial, coaching and mentoring support.
Cristina Fonseca co-founded Talkdesk, Portugal's third unicorn, and with a mission to make Portugal more innovative, she served on the Global Agenda Council on Europe, and  was recognised as a 30 under 30 in Enterprise Technology by Forbes. She is now Venture Partner at Portugal's largest independent private VC fund, Indico Capital Partners, focusing on seed to Series A.
Deepali Nangia is an investor at Atomico VC, focusing on female founders, as well as being Venture Partner at Speedinvest (one of Europe's most active early-stage investors with more than €400 million AUM, 40 investors, and 6 global offices). She is also co-founder of Alma, an angel community in support of female founders.
Eileen Burbidge
is Partner at Passion Capital, one of Europe's leading early-stage technology VC firms, based in London. Eileen is Business Chair of Tech City UK (the British government-backed organisation supporting the digital economy), the UK Treasury's Special Envoy for FinTech and Tech Ambassador for the Mayor of London's office. She was also awarded an MBE by the Queen.
Elizabeth Varley is the founder and CEO of TechHub, which offers its community workspace facilities, events, workshops, advice sessions, contacts, PR and press opportunities. The global tech startup community is headquartered in the UK and operates TechHubs in seven cities around the world, having supported over 3000+ entrepreneurs.
Emma Davies is co-CEO of Octopus Ventures, one of the largest VCs in Europe with £1.3 billion (around €1.5 billion) under management. Emma has a wealth of experience building world class investment houses including J.P. Morgan, Perry Capital, Big Society Capital and The Wellcome Trust.
Eva Martin Villaro is co-founder of Tiendeo, an online platform bringing together digitalized and geolocalized catalogs and weekly ads of major retailers. The company has become a leading platform with approximately 75 million monthly users, 198 employees, and 6 international offices located in Barcelona, México, Colombia, Brazil, and Argentina.
Check Warner is co-founder of Ada Ventures, a venture capital firm backing 'overlooked' founders, inspired by Ada Lovelace, the first computer programmer. Francesca is also co-founder of Diversity VC, a non-profit group bringing together venture capital individuals who seek to increase diversity of thought in the venture industry.
Ida Tin
is the co-founder and Chairwoman of the Board of Clue, the world's fastest growing female health app. Berlin-based Clue helps you understand your cycle so you can discover how to live a full and healthy life. Clue has more than 13 million active users, in over 190 countries, and has been featured in major media like The New York Times, New York Magazine and Forbes.
Jacqueline de Rojas (CBE) is President at techUK, bringing together all players in the ecosystem, as well as being President of Digital Leaders. She is an experienced Non-Exec Director serving on the boards of plc businesses like Right Move, a business advisor and mentor, and has been awarded a CBE by the Queen.
Julia Hawkins is General Partner at LocalGlobe, a UK-based venture capital firm that focuses on seed stage investments. She is also General Partner at Latitude, the sister fund to LocalGlobe, and its 'breakout fund'. Julia's portfolio includes, among others, sexual wellness app Ferly, the messaging platform for doctors and patients Accurx and deep-tech startup Apheris.
Julia Bösch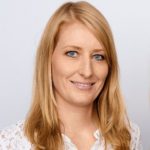 is the founder and CEO of Outfittery. The Berlin-based company, one of Europe's leading e-commerce startups which aims to revolutionize the shopping experience for men. In 2019 the startup merged with Modomoto, to conquer its European expansion.
Kat Borlongan leads La French Tech, a special French initiative inside the Macron administration to bolster France as a startup nation. With communities in over 100+ cities worldwide, to help French startups scale abroad, La French Tech also offers a visa scheme for startup employees, funding, campaigns, startup programmes and support.

Kinga Stanislawska is the founder and Managing Partner of the Polish Venture Capital firm Experior Venture Fund. Kinga also co-founded the 'European Women in VC' community of over 400 women in the European and Israeli VC space.
Kike Oniwinde is founder and CEO of BYP Network, a platform that connects black professionals with each other, and companies, startups and corporations. Reaching tens of thousands, the BYP Network has a job board, hosts events and has an app in 65 countries. Kike is also an ex-Great Britain javelin thrower.
Laura González-Estéfani is founder & CEO of TheVentureCity, a new inspiring venture and growth acceleration model that helps diverse founders achieve global impact, with 45+ team members spread between Madrid and Silicon Valley. Previously, Laura spent 9 years at Facebook supporting growth strategies.
Laurel Bowden is Partner at 83North, a global venture capital firm which invests in exceptional European and Israeli entrepreneurs. Having been part of investments and sitting on the board of companies like Just Eat and iZettle, in 2019 she launched a €273 million fund, bringing the total capital under management to €1 billion.
Luciana Lixandru
 is a Partner at Sequoia Capital, a team with a history of investing in giants like Airbnb, YouTube and Skyscanner. As their first Europe-based partner, she connects European startups to the US market. She was previously a Partner at Accel, leading investments into multi-billion-dollar startups like Deliveroo.
Lupina Iturriaga is co-founder and CEO of Fintonic, an easy-to-use app for organizing accounts and saving money. Lupina has led Fintonic to more than €50 million raised, over 130 employees, and the Google Award for the best financial app. The fintech app, being a leader in Spain, Mexico, and Chile, is used by more than 900K users.
Madeleine Gummer v. Mohl
is co-founder and CEO of Betahaus, one of the leading coworking brands in Europe with a global network of 76 locations worldwide, managing 1,000+ community and startup events each year. Madeleine  is also the co-founder of the accelerator Hardware.co. 
Maria Pennanen
is co-founder of Accelerator Frankfurt and the previous CEO of the crypto/blockchain startup Santiment. With over 20 years of entrepreneurship experience, Maria already has advised over a hundred startups.
Maren Bannon is co-founder and Partner at January Ventures, backing the founders of the next decade: more female, more diverse and more distributed. As an Engineer turned entrepreneur, she saw that the network driven nature of VC causes it to miss many huge opportunities. Previously she was CEO and co-founder of LittleLane, and has an MBA from Stanford.
Mette Lykke is the CEO of the fast-growing social impact startup Too Good To Go, working with around 30K supermarkets, restaurants, bakeries, hotels that have surplus food and leading a team of 400+ talented Waste Warriors. Previously she was co-founder and CEO of Endomondo, a successful social fitness community based on free real-time GPS tracking of running. 
Milda Mitkute is co-founder of the Lithuanian unicorn Vinted – Europe's leading online marketplace for second-hand fashion. Vinted today counts over 34 million members across 13 markets. A team of over 500 people across Vinted's offices in Vilnius, Berlin, and Prague develop and support the platforms continued growth.
Moojan Asghari is a co-founder of Women in AI, a community of 3500 women across 100 countries, including 28 ambassadors organising initiatives on the ground. Their activities include an educational programme for young girls, WAI2GO, events like WAITALK, and a founders award to recognise female founders in AI.
Nicola McClafferty
 is Partner at VC firm Draper Esprit. Before that, she was the co-founder and CEO of the online marketplace Covetique, and investor at Ravensbeck and Balderton Capital. She currently serves on the board of startups like Sweepr, Decibel and Lyst.
Ophelia Brown founded Blossom Capital in 2017, having previously been at Index Ventures and LocalGlobe leading investments into startups like Typeform and Cuvva. Blossom is now leading the Series As of the 'courageous', linking EU and US players, and Ophelia is driving the ship.
Paula Groves
 is behind Impact X, the venture firm funding the undiscovered. With decades of private equity experience, US-born but London-based Paula is all about getting behind highly-motivated underrepresented minority communities in Europe, levelling the playing field. 
Reshma Sohoni is a co-founder and Partner of Seedcamp, a London-based organization which describes itself as 'Europe's seed fund' – identifying and investing early in world-class founders attacking large global markets. The Seedcamp Nation includes over 300+ startups and three European unicorns: TransferWise, Revolut and UiPath.
Roberta Rudokienė is head of Startup Lithuania, the one-stop-shop for all current and entrepreneurs in Lithuania. Powered by Enterprise Lithuania, the government's initiative, they provide advice, news, a startup database, job listings and their annual Startup Fair, being the main startup event in Lithuania.
Roxanne Varza is the Director of Paris-based Station F, which is currently the largest startup campus worldwide, with 366K square feet, 4K desks, chess boards, multimillion-dollar art installations and a whole host of success stories. Previously, Roxanne led Microsoft's startup activities in France. 
Simone Brummelhuis
is founder of Borski Fund (investing in diverse teams), and The Next Women (providing female entrepreneurs with capital and resources). She is recognised as one of the 10 Women to meet in Tech by The Guardian, and in the Forbes' list '20 women to follow on Twitter for Female Entrepreneurship and Business'.
Sonali De Rycker joined the venture capital firm Accel Partners in 2008 and today is Partner. Sonali invests in consumer internet, enterprise software and fintech businesses, has led Accel's investments in companies like Wallapop and Spotify, and about a year and a half ago co-led a €96 million investment into challenger bank Monzo.
Tamara Littleton is founder and CEO of The Social Element agency, a 350+ person social media agency providing solutions to some of the world's biggest brands, as well as being co-founder of crisis simulation company Polpeo. Tamara is also part of The Female Founders Forum, a group of some of the UK's most successful female entrepreneurs.
Marie-Helene Ametsreiter is Lead Partner at SpeedInvest, one of Europe's most active early-stage investors, with more than €400 million AUM, 40 investors, and offices in Berlin, London, Munich, Paris, Vienna and San Francisco. She leads the Industrial Tech team, driving  investments in manufacturing, logistics, construction and climate tech.
Tania Boler is co-founder and CEO of Elvie. Their flagship products, the Elvie Trainer (an award-winning app-connected Kegel trainer) and the Elvie Pump (the world's first silent wearable breast pump) are breaking barriers in women's health tech, and have captured the attention of Vogue, Women's Health, and were featured in the Oscar's gift bags.
Tugce Bulut is the founder and CEO of Streetbees. Founded in 2015 Streetbees is connecting companies that need data with people on the ground who can provide it. Over 3 million users – or 'bees' – across 189 countries use the app to share videos, photos and text, about their daily lives, choices, what drives them – to predict what they may do next.
Ulla Brockenhuus is Managing Partner of SEED Capital, Denmark's largest venture capital fund within the seed segment, investing in 15-20 of the most innovative tech startups every year. Over the last 20 years, Ulla has been an advisor, investor and member of the board for a number of startup initiatives.
Viktoriya Tigipko is the Founding Partner of TA Ventures, investing in early-stage startups in Europe and the US. Viktoriya is also cо-founder of WTECH (Ukraine's club for female tech CEOs), founder of CodeClub Ua (Ukrainian network of children's coding clubs), President of the Odesa International Film Festival & Chairman of the Supervisory Board of the Ukrainian Film Academy.
Victoria Repa is CEO and co-founder of BetterMe, a leading health & fitness app publisher with over 90 million installs worldwide, also being one of the TOP 5 favourite apps in Health&Fitness category in the USA. Victoria was also recognised in Forbes 30 under 30, is and Official Member of Forbes Tech Council, and alumni of the Apple Entrepreneur Camp.
Yvonne Bajela is a Founding Member and Principal at Impact X Capital, a UK-based venture capital fund founded to invest in companies led by underrepresented entrepreneurs across Europe. Recognized by 'Forbes 30 Under 30′ in 2020, she has invested over $250 million in startups across Europe, the Middle East, and Africa. Yvonne is also a startup mentor, female founder coach and World Economic Forum Global Shaper.
Do you have a nomination for next year? Send us an email to [email protected].
To keep your finger on the pulse of Europe's entrepreneurial stories, tech events and funding opportunities, make sure to sign up to the EU-Startups CLUB!