Foodtech has become an established sector, and a profitable one at that. Now what about drinktech? New food and drink technologies have been booming in recent years, and networks now exist in China, India and the African continent to provide information about key players in the digestible liquids industry, addressing the specific needs of their markets, and connecting startups with other sectors.
Drinktech in Europe is well represented and even has a powerful network through FoodDrinkEurope. FoodDrinkEurope's mission is to help the industry, policy-makers and civil society work together toward ensuring that Europe continues to have the highest quality and safest food in the world, drive prosperity, and ensure quality jobs.
Here are 10 startups producing novel, healthy beverages:
Chaga Health – With roots in the Estonian countryside, Chaga Health brings you an elixir made from chaga – "the king of medicinal mushrooms" – to boost your immune system. The chaga elixir has strong anti-inflammatory, as well as anti-bacterial and anti-fungal properties. The chaga elixir also contains aloe, honey sea buckthorn, pine buds and yarrow, each of which have their own medicinal properties, along with vitamins and anxti-oxidants. This startup draws on ancestral knowledge from the past (chaga has been used in Eastern European folk medicine since the 1500s). Using only organic ingredients that are traceable and handpicked, they offer a range of elixirs.
Huel – This UK-based startup is on a mission to make nutritionally complete, convenient, affordable food with minimal impact on animals and the environment. Nutritious food is vital for a happy, healthy life, but we are all leading increasingly busy lives. So we need meals that are both nutritionally complete and convenient. Huel offers meals in a bottle that contain just the right amount of protein, essential fats, carbohydrates, vitamins, and minerals. What's more, it's vegan, lactose-free, soy-free, and GMO-free. Founded in 2014, Huel has so far sold over 50 million meals in more than 80 countries, and raised over €24 million to date. 
YFood Labs – Munich-based YFood Labs was founded at the end of 2017 with the goal of creating a nutrient-rich and convenient full meal solution for millennials – recognizing that time is money, and while fast food is abundantly available, it is obviously unhealthy. Before YFood was created, the founders led high-stress lives in the financial industry, and fast food was the norm for them. So they created a solution – providing beverages that contain 33 grams of proteins, 26 different vitamins, and 7.5 grams of fibre in each bottle. The startup has raised €4.2 million in a Series A round, and we featured it as one of our 10 Munich-based startups to look out for in 2019.
Ethics Coffee – This Barcelona-based startup is changing the way we drink coffee. Ethics Coffee makes cold brewed coffee, contained in a 100% biodegradable bottle made of sugar cane extract and plant combinations. They get the best berries and beans from a farming cooperative in Colombia, then use a roasting air process before grinding them. Finally, they let the coffee steep in purified cold water for 20 hours, extracting the natural flavor and aromas. They constantly keep the coffee cold to control its acidity and bring you the best cold brewed coffee. This startup had a booth at our latest EU Startups Summit in May. 
Hempfy – As more and more governments legalize marijuana, Swiss startup Hempfy expects comestible cannabis to replace smoking and alcohol as the world's preferred social drug. However cannabis is a plant not widely prized for its flavor. To address this problem, Hempfy has developed and is marketing cannabis infusions that "bring out the best flavours and aromas from the cannabis plant, by perfectly balancing the gentle herbal bitterness, a rich taste and light carbonation". For the present, Hempfy products are made from low-CBD strains of cannabis that have no known psychoactive effects (though this could change as the law does). Hempfy also produces a Cannabis Essential Oil via steam distillation of natural hemp from Switzerland. Founded in 2016, Hempfy was the first project posted on the Swiss Beedoo crowdfunding platform in December of 2017. We previously featured Hempfy as one of the European startups innovating in the cannabis industry.
Algama – This French startup has committed to harness the power of microalgae. As the world population increases, so does the demand for food. In order to address this challenge, Algama's core activity is the creation of innovative products derived from microalgaes. The team's objective is to develop and deliver innovative and tasty food products with high market potential while overcoming the constraints and technological barriers involved in extracting the nutrients contained in microalgae for the food sector. They came up with a drink called "Springwave", that is a naturally blue spirulina-based drink, rich in magnesium, as well as vitamins B2 and B12. Founded in 2013, Algama raised €3.5 million in a Series A funding round with Horizon Ventures. 
Kuantom provides connected solutions to the beverage industry. Through a combination of technology and mixology they offer ORKESTRA, the first patented solution that creates cocktails with or without alcohol by emulsifying up to six ingredients in refillable bottles. ORKESTRA is able to automatically recognize each ingredient inserted in its connected cellar. In order to offer a perfect balance between flavours, ORKESTRA precisely doses each ingredient, while strictly respecting the recipes designed by the mixologists. The ORKESTRA solution uses a service system that requires no further maintenance than cleaning a removable funnel. No external maintenance is required. Founded in 2014, the Paris-based startup was identified by the MH 78 Lab in 2017 as a promising startup that will revolutionize the way we make cocktails. 
Brain Füd – Looking for a boost? Brain Füd is a 500ml natural energy drink containing fruit juices, natural caffeine from Guarana, and seven brain boosting vitamins and minerals. It comes in three refreshing fruity flavours using berries, citrus fruits, and tropical fruits. Brain Füd is perfect for health conscious professionals, students, or any busy person who wants to stay focused and on task. It will also appeal to those who want to get hydrated before a run or gym workout, or those with busy lifestyles who would prefer a healthier alternative to energy drinks or coffee. A bottle of Brain Füd can be consumed at any time of the day as part of healthy lifestyle. It could be used as a morning boost with breakfast or as a pick-me-up after lunch. Brain Füd is packed full of the nutrients your brain needs to stay sharp and healthy. It is also low-sugar, low calories and include no artificial ingredients. Officially launched in 2017 and only available in England so far, Brain Füd, is already talking to major retailers and distributors in the UK.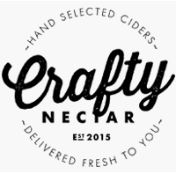 Crafty Nectar was created to connect people with ciders that are made in the traditional way: no concentrates or artificial flavourings, and gluten-free. Every cider is sourced directly from small independent producers – they want to give them a chance to shine, and for their products to get into the hands of the people that will truly appreciate them. Launched in 2015 and headquartered in Shepton Mallet, UK, the company raised €120k in 2017 on Crowdcube to expand its production of craft ciders.
By the way: If you're a corporate or investor looking for exciting startups in a specific market for a potential investment or acquisition, check out our Startup Sourcing Service!
- Advertisement -