Hiring skilled staff is one of the biggest challenges tech companies face across Europe and the problems posed by Brexit could reshape the map of European tech, according to in depth analysis of Europe's tech employees by Balderton Capital, one of Europe's leading VC firms.
Startups across Europe say that it is getting increasingly difficult to hire skilled staff. It can take up to 20 weeks to hire a senior engineer and up to 16 weeks to recruit senior non-engineering staff, causing a huge headache for fast growing companies.
According to Balderton's analysis, just three countries in Europe  – the UK, France and Germany – employ two-thirds of all the people that work for tech startups. The UK alone employs 31% of those who work for startups, underlining the extent to which the UK dominates the European tech scene.
London, where 40% of companies have at least one founder from overseas, is the most popular destination for job hunters looking to work abroad, according to data analysed by Balderton. However, leading venture capitalists are warning that the attractiveness of the UK to this highly mobile workforce could decline rapidly and that the high costs of hiring staff who need visas could become a significant issue should policies towards skilled workers change significantly post Brexit.
James Wise, Partner at Balderton Capital, said: "London, together with Paris and Berlin, dominate the tech scene in terms of employees and investment today. London in particular has benefitted significantly from migration, with over 40% of the tech companies founded last year having at least one non-native founder. But the relative weakness of the pound since the referendum vote, together with developer's willingness to be mobile and work in smaller tech hubs, could reduce the relative advantage the capital enjoys without proper policy support post-Brexit."
He continues: "The industry's other big issue is that tech startups remain dominated by men. In 85% of startups, female workers are in a minority. Women are particularly poorly represented at the highest levels. In 73% of startups, fewer than a quarter of senior employees are women. Given the looming recruitment crisis in many tech communities, companies must urgently address how they develop female talent within their organisations."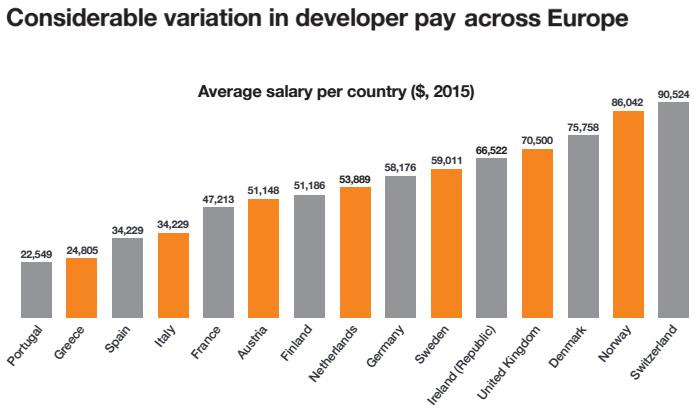 After the UK, the biggest tech sectors by number of people working for startups employed are in France and then Germany. The survey also reveals that there are almost as many software engineers employed in London, Paris and Berlin as there are in Silicon Valley (515,000 versus 564,000). High concentrations of developers can also be found in Dublin, Amsterdam and Stockholm.
Balderton analysis also suggests that the nature of tech entrepreneurs is changing, with almost half having previously worked in a startup or a tech company. This figure shows the importance of big tech companies like Google, Facebook and Microsoft in providing the training and inspiration for the next generation of startup founders and employees.
Balderton Capital's research reveals that:
43% of employees in European tech are not citizens of the country where the company is headquartered

The number of STEM graduates correlates closely with the strength of a country's ecosystem

Job searches are focused primarily on the UK, Germany and France

For now, London remains the city attracting the most job searches

London, Paris and Berlin have almost half the engineering talent in Europe and are home to as many developers as Silicon Valley

IBM, Nokia, Microsoft, Accenture and Google are the top 5 companies from which startup employees are drawn

There is huge variation in pay in startups across Europe

Switzerland is the best paid location to work for a startup with an average salary of $90,524

Portugal pays the worst, with average salary of $24,772

Women remain in the minority in four out of five European startups

Employees in European startups are overwhelmingly European and studied at European universities
For more info check out the full analysis/presentation by Balderton capital. By the way: They also just published a report about the Brexit challenge, which is also quite interesting.
- Advertisement -