A coworking space is often the next step for solopreneurs or small startups that grew out of their home offices. Flexible as well as affordable terms make it possible to rent an office desk for one day, one months or more. As one of Europe's biggest startup hubs, Paris offers a large variety of flexible office spaces (110+). To ease your decision and to provide you with a short overview, we've compiled a list with 10 of the coolest coworking spaces in Paris. And here it is:
Coworkshop: A collaborative workspace for young entrepreneurs, freelancers and students in need of a professional but sometimes also relaxing place to work. Coworkshop is located near two of the major train stations, Gare du Nord and Gare de l'Est and close to the Saint Martin Canal in the 10th district of Paris.. Cost: Full-time packages start at €200 per month for nomads and €400 for residents.
DojoCrea, DojoCrea owns 3 coworking spaces in Paris : République, Saint-Maur, and Saint Martin. It also provides kind of an incubator program for startups. In its coworking spaces DojoCrea offers desks, meeting rooms, support, networking and events. Cost: Full-time packages start at €390 per month.
Draft: A coworking and a comaking space with awesome machines (3D printers, etc.) and tools for creators, designers and engineers. Draft provides a platform for collaboration and offers the use of its equipment to subscribers and residents. Cost: Full-time packages vary between €180 and €600 per month.
Hubsy: A coworking and café space which offers all the usual coworking amenities like wi-fi, meeting rooms, printers and plug sockets. Hubsy operates on a self-service basis, with payment by the hour or by month (for residents). Cost: A full-time package is €250 per month.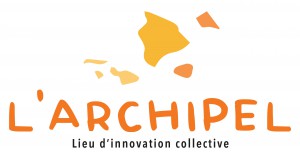 L'Archipel: Located in a stylish 19th century chapel of a former convent, L'Archipel is a coworking space and a "centre of collective innovation". With a café and visiting food trucks, a massive book swap, workshops and an event space, you can go there for work, but also for brunch or for a yoga session. Cost: A full-time package is €330 per month.
L'Anticafé:  The concept of this coworking café is that you pay per hour, not per drink: €4 for the first hour, and €2 for every hour thereafter. Furnished with everything that you and your laptop needs. There are three L'Anticafé locations in Paris. Cost: A full-time package is €270 per month.
Le Lawomatic: A nice coworking space between Belleville and the Canal Saint-Martin. Le Lawomatic offers an office space, storage units, a high-speed Internet connection, 24-hour access, a shared meeting room and a small cafeteria. Cost: A full-time package is €370 per month.
Le Loft 50 Partners: Located in the heart of Paris, Le Loft 50 Partners is a 500m² coworking space in a former rope manufacture. It's a place of exchange and networking for startups and there are events and workshops on a regular basis. Cost: Full-time packages start at €399 per month.
Mutinerie Coworking: A nice coworking space gathering entrepreneurs seeking talents and freelancers on the hunt for new opportunities. Mutinerie also hosts and organises a variety of events. Cost: Full-time packages start at €290 per month.
Numa: NUMA St Martin provides workspaces focused on developers and startups. It's a vital hub for industry players, fostering diversity, collaboration and openness. Aside of coworking, Numa also does events and offers an acceleration program for startups. Cost: A full-time package is €300 per month.
- Advertisement -