Criticats, a Paris-based startup which is taking the challenge to compete with Yelp, just launched its recommendation platform. The new kind of city guide aims to make recommendations more personal while solving the problem of the trustworthiness of critiques (a continuing problem of Yelp).
Georges Ethuin, the Co-founder of Criticats, describes it arithmetically: "Yelp x Pinterest = Criticats".
Criticats is basically a personal guide where you see the recommendations of those you trust and follow (friends, bloggers, professionals, magazines…). The promising new site makes it easy and fun to share recommendations and automatically provides you with cool ideas for everything you do in the city: movies, restaurants, theatres, bars & more.
On the editorial side Criticats has partnered with La Fourchette, Fnac Spectacles & Digitick – for Criticats' users this means fresh, suitable and local content every day.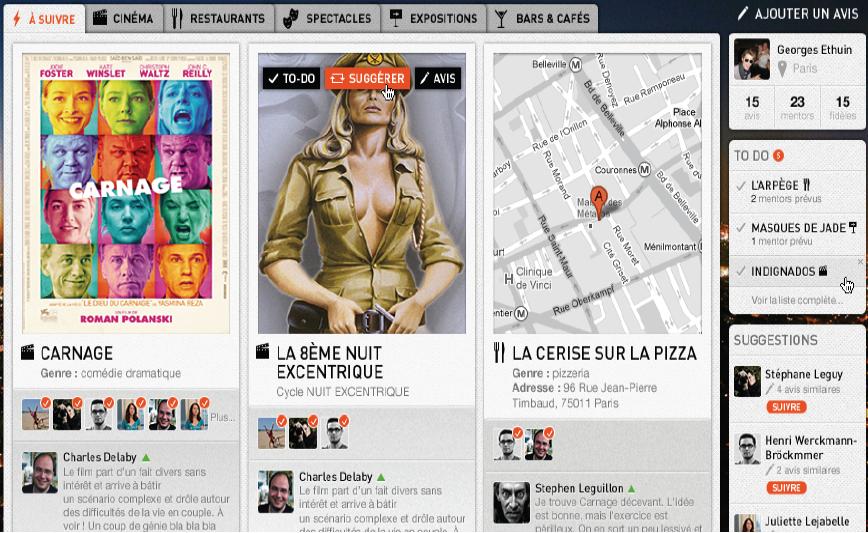 During my last trip to Paris, I had the chance to meet with Georges Ethuin (the Co-founder of Criticats). I was right away thrilled by his passion for the idea behind criticats. Since then, Georges and his partners worked hard (and in stealth mode) to build the best possible first version of this new type of a city guide. Criticats just launched in Paris and already announced plans to expand crossatlantic by early-2013.
In order to become a really usefull and more personal alternative to Yelp, Criticats will now need to get some momentum. We'll keep our fingers crossed and ask our readers to give it a try – especially if you live in Paris!