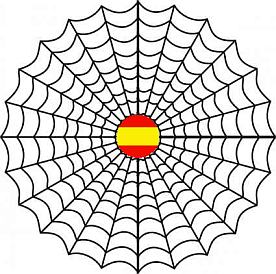 Every day 100s of new enterprises launch their web journey, and millions of users find new ways to utilise the power of the web. Spanish startups are playing their part in changing the way that people use the internet in their daily life. Here are just a few examples of Spanish start-ups making global waves in 2012, often through making the social web experience a better experience:
Spartanbits – have stormed the Android app market with their GoChat app for Facebook and have had several million downloads worldwide – the latest stats actually show they come close to 10 million downloads! In fact, according to appbrain.com it's been rated by users as the best Facebook chat experience for Android. Recently listed in the Sunday Times best apps list.
Twitter has revolutionized the way many people world-wide keep in touch with what's happening. Yet it has certain limitations for power-users, that the people behind Moodyo (the new social shopping network) intend to remedy with the launch of their new product Twissues . It allows a backup of all of your tweets (with quick and easy access), and management of trending topics in different timelines. It promises to enhance the Twitter experience for all users, but should be particularly effective for journalists and/or community managers, who quickly need to review past tweets and related links. Amazingly you can search on a topic you've twitted several times, and then publish again as a linked-list. It's getting rave reviews from power users, and should be something any serious user of Twitter should check out.
Motion4startups must surely be an essential service for many start-ups. In a world where 1000s of new apps, and 100s of new start-ups are launched each day, you need something extra to get your idea across to your market. Motion4startups provide audio-visual expertise so that your new venture has an entertaining explanatory video for your enterprise. Find out more on this service at SpainUpNews For those bringing their start-up to market, it surely has to be considered as one way to give your enterprise that vital edge.
uWhisp is a cloud service that gives you the ability to record your voice and share it on any website through your browser. It is fully integrated with Facebook and Twitter, and is designed to be easy to set up and use. So if you want post and tweet audio files across your Facebook and Twitter profiles, sign up (it's a free application).
Last example in this article will be Zyncro, who I featured in this article "Spanish start-ups to watch in 2012" They have added to their already great product range, by introducing an automatic translator. It allows the user to translate messages and comments on their wall with a simple click, and is powered by the Bing translation engine from Microsoft. This will surely be a great enhancement to Zyncro's Enterprise Social Networks, in use in companies all over the world, and serviced by one of their multiple offices located over different continents.